As trusted by over 30,000 patients
Coronavirus (COVID-19) 21st July 2021
We Are Open
Following the NSW Government's latest health advice, all Dental Health practices will be providing urgent and emergency care only until further notice. This includes pain, swelling, dental trauma or broken fillings.
These emergency dental services will be undertaken with extra precautions in accordance with the Level 1 guidelines as stipulated by the Australian Dental Association.
We ask that all our patients continue maintaining social distancing as well as practise proper hand hygiene when attending our surgeries.
Thank you for your ongoing support and understanding. We hope you and your family stay safe and healthy.
---
If you have been confirmed to have COVID-19
OR You have travelled internationally within the past 14 days
OR You have had any contact with someone who is a confirmed COVID-19 case
OR You have ANY of these symptoms: Fever, Cough, Sore Throat, Diarrhoea, Shortness of breath
Do not come directly to our practice.
Please call us before making a booking or attending an appointment as we may recommend you delay any non-urgent dental treatment.
---
If you experience severe symptoms, call 000 and advise the operator that you are in self-quarantine because of COVID-19 risk.
For more information call the Coronavirus Information line on 1800 020 080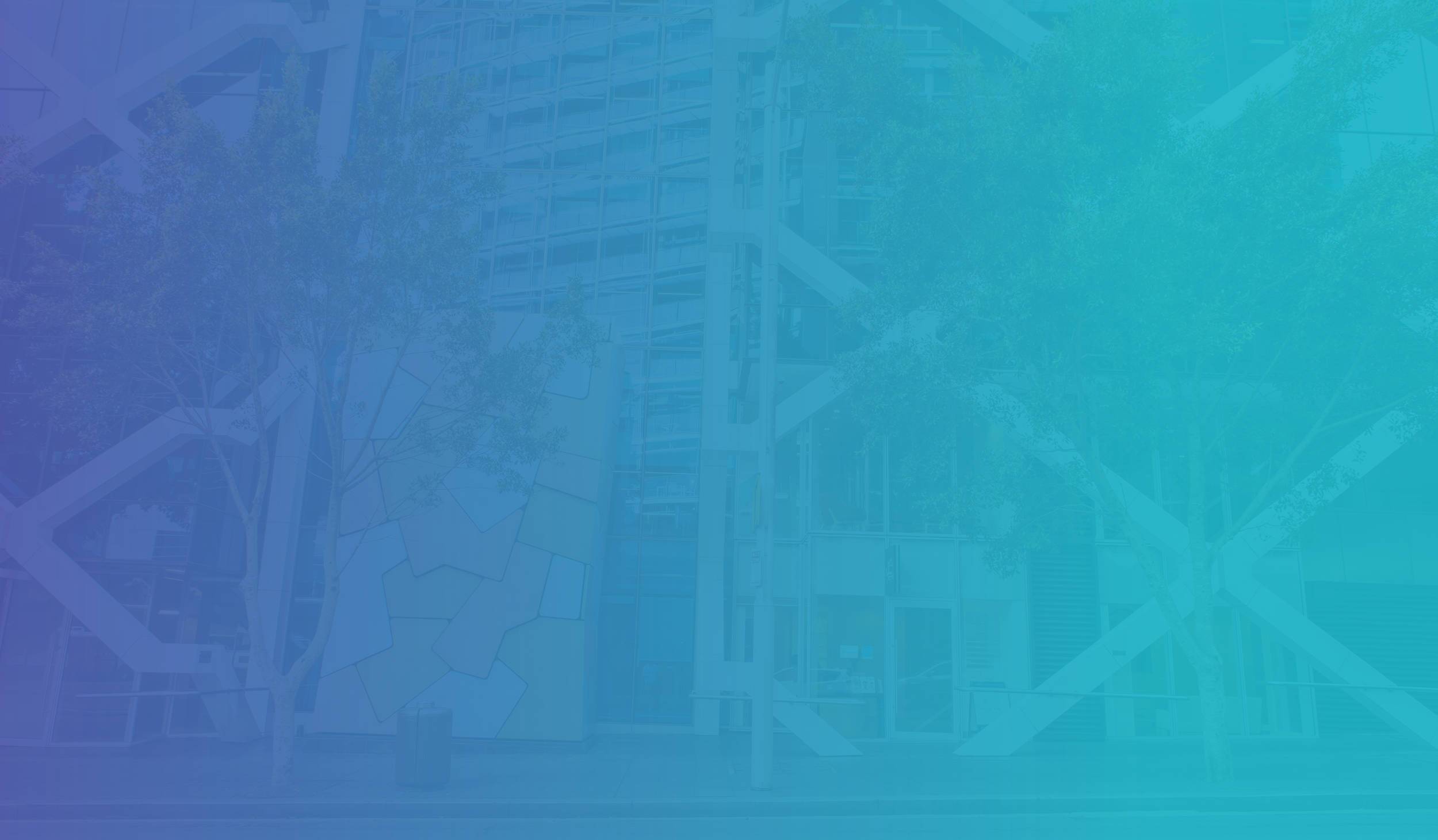 Award Winning Dentist in Martin Place
The City of Sydney's most awarded dental group
Trusted by over 30,000 patients
No gap services available for new & existing patients
New patient special: checkup, clean, x-rays fund only!
Same day emergency appointments available
As featured in the Sydney Morning Herald and the Sunday Telegraph
Proudly servicing the community for over 10 years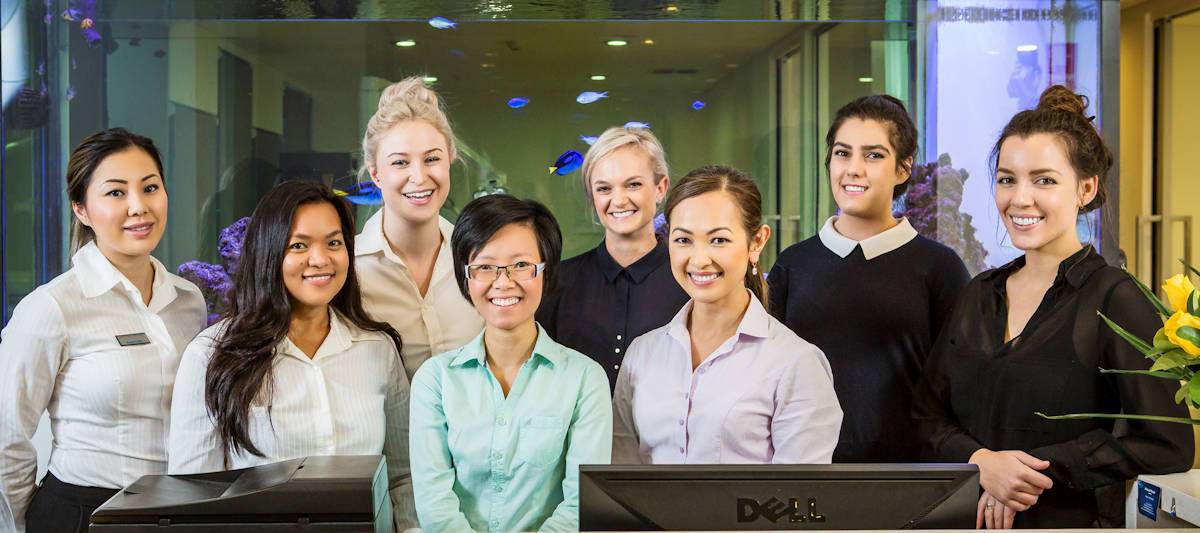 Dr Dimitri Sigalas featured in the Sydney Morning Herald talking about Invisalign.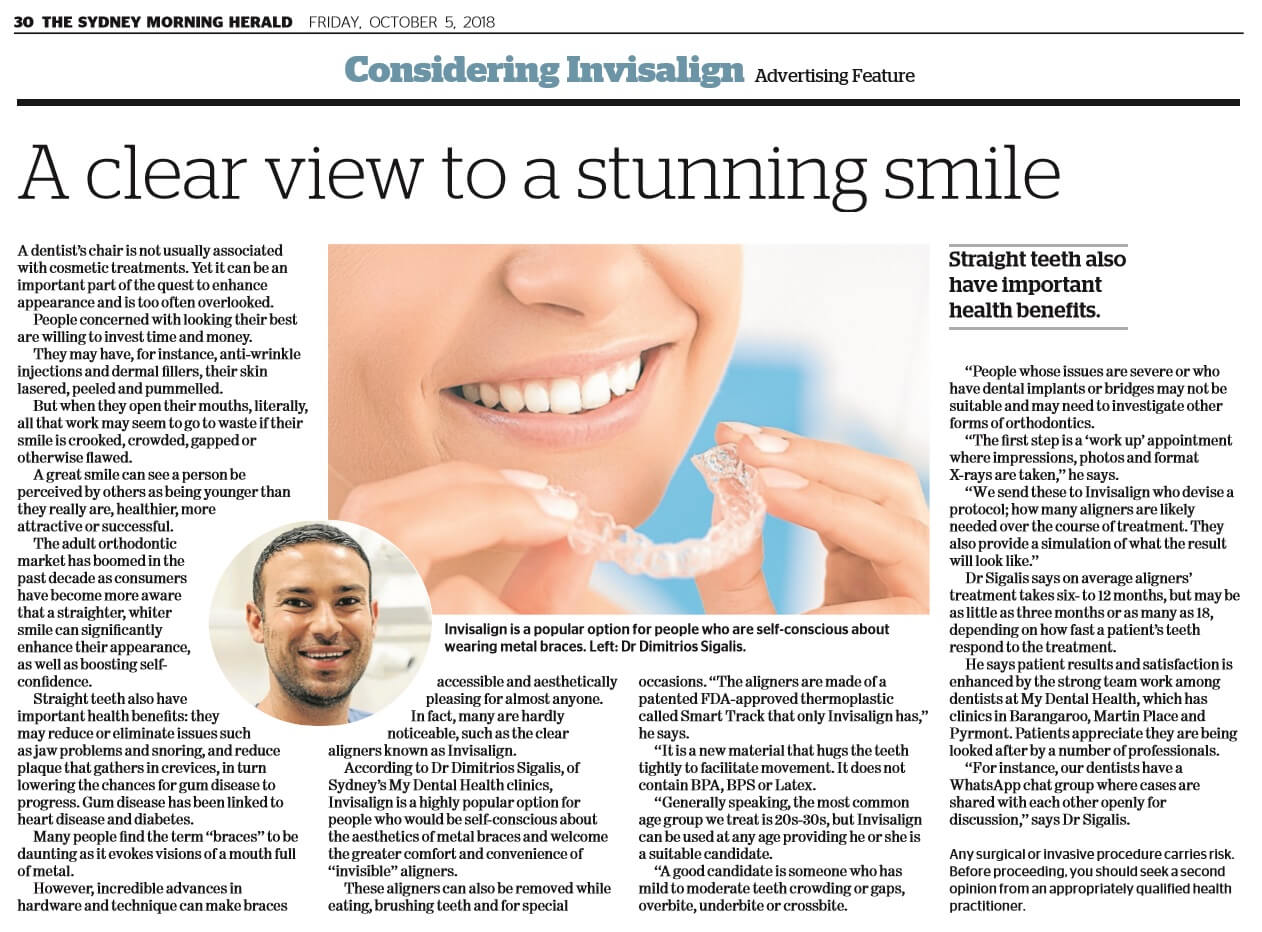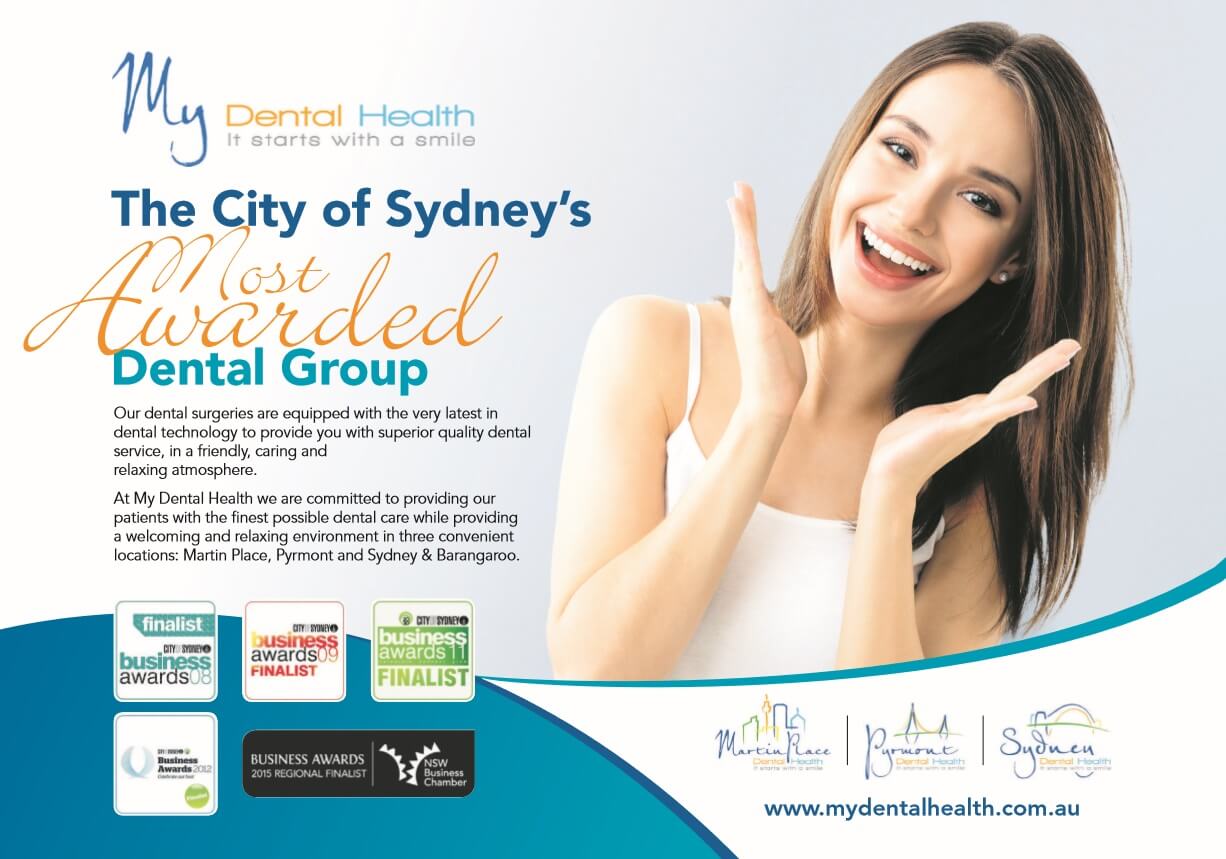 Complimentary Invisalign Consultation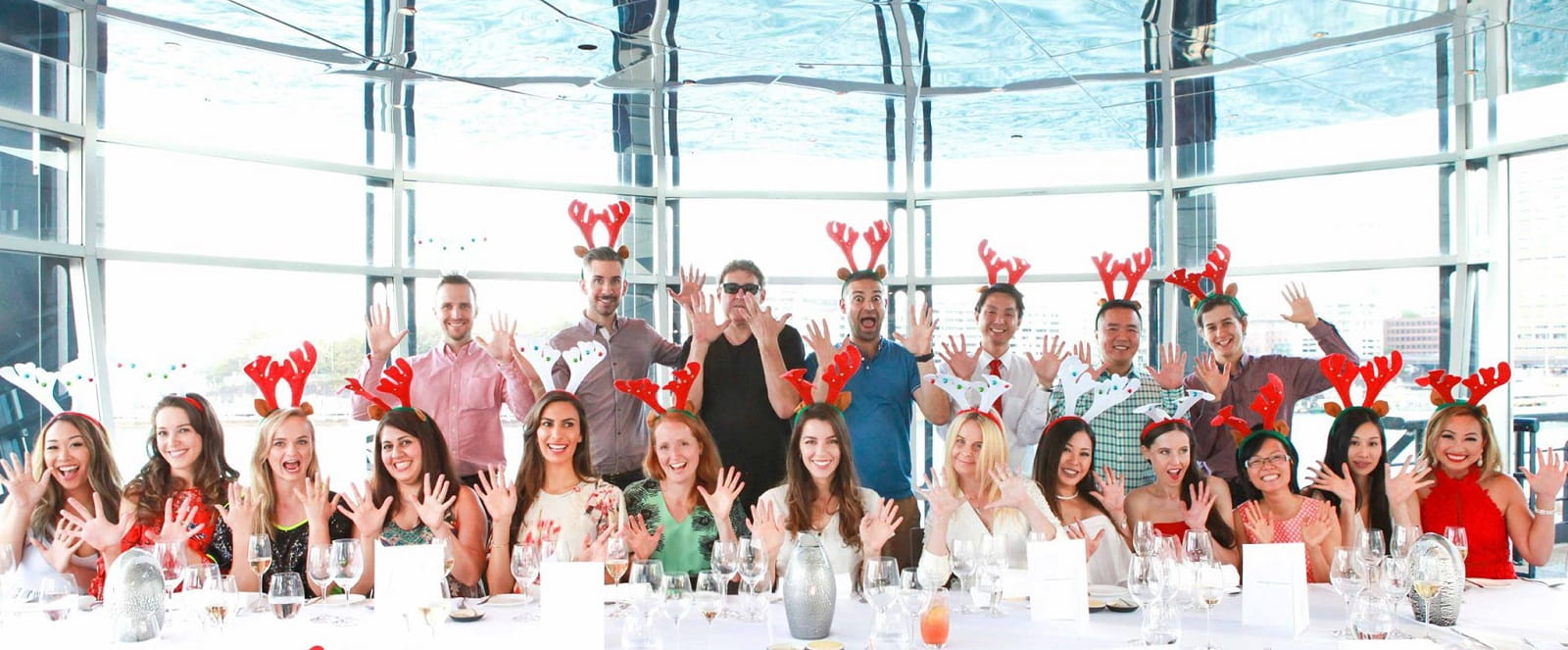 The Dental Health team celebrating their 10th anniversary and Christmas at Quay restaurant in 2017
Inspired by Finding Nemo
Inspired by Finding Nemo! Dr Patrick Dang designed his dental practices inspired by his favourite film which features a fish tank with everyone's favourite Nemo characters.
New Patient Special
Pyrmont, Sydney & Martin Place Dental Health are offering all new patients on their first visit a gap-free (i.e. health fund rebate only) check-up and clean.
Find out more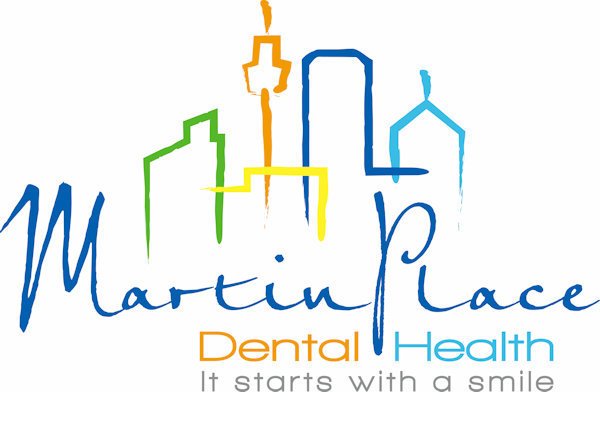 SE 1001 LE 10, 25 Martin Place
SE 1001 LE 10, 25 Martin Place
Sydney, NSW 2000
Sydney CBD Dental Professionals, My Dental Health, Sydney Locations

My Dental Health's expert team of Dentists

Our Sydney CBD dental professionals reflect a highly trained team of experts at each My Dental Health practice. We're passionate about delivering premium dental services that are reflective of our "Best of Sydney" finalist award. Our reputation for being one of the leading Sydney dentists is something on which we pride ourselves. Our Martin Place, Pyrmont and Barangaroo practices are all located in Sydney's CBD and maintain the same level of excellence.

Offering impeccable quality of care, we have gained a wonderful reputation, caring for all of our patients, including first-time patients.

A new patient took the time to review our dental practice on Google business, saying that "The service and facilities were impeccable. The dentist did a thorough check on my teeth, taking photographs and giving them a really good clean."

Our dentists have 80 years of experience between them!

We provide every one of our patients, including walk-in patients, quality dental services in a calming environment that rivals any other Sydney dental practice. Our dentists have extensive experience that between them, extends over many years. Their level of expertise combined with the quality of treatments is evident in the premium dental treatments they deliver.

Conveniently located and affording the most flexible treatments

Martin Place Dental Health is situated in Sydney's financial district and provides even the busiest of people, one of the most accessible options, in the heart of the CBD. We offer extended opening hours, which provides you with the greatest flexibility, so that you can attend to your dental care needs when you choose.

Patient-centric Care

In keeping with our luxe locations, all of our Sydney practices are both minimal and stylish, boasting state of the art facilities. A large centrepiece aquarium will immediately instil a sense of calm in clients who feel less than excited about visiting the dentist.

Some people like the dentist and other grimace at the thought. Our professional staff is highly experienced, tending to the needs of all patients, including those who feel very nervous visiting the dentist. At My dental health, we're committed to ensuring that patients feel at ease, which is why our services reflect patient centric care.

Being generous with our time means we are dedicated to giving you total peace of mind and relaxation. We want you to feel safe and calm, so we perform all of our dental treatments at a pace that is comfortable for you.

Our focus on delivering the most innovative and progressive dental care treatments ensures that we can provide the most comprehensive dental care found in a nearby Sydney city dentist.

A full range of Dental treatments

We offer an all-encompassing range of dental treatments from:

Dental checks
X-rays
Teeth cleaning
Emergency dental care
Chipped crowns
Fillings
Root canal treatment
Dental implants
Wisdom teeth removal
Cosmetic dentistry services including Zoom Teeth Whitening
Cosmetic injectables for a winning smile and a wrinkle-free face

Providing a myriad of treatment options and all under the one roof, My Dental Health offers the most complete destination solutions for your dentistry needs. Choose from one of our 3 Sydney CBD clinics, Pyrmont, Martin Place and Barangaroo.

Do you have a Dental Emergency?

We know how troublesome it can be when experiencing a dental emergency. As soon as you notify us about your pressing issue, at any one of our 3 My Dental Health locations, we will endeavour to treat your dental care emergency on the very same day.

New Patient Offer

To provide new customers with the most welcoming experience, we offer a gap-free (health fund rebate only) check-up and clean. Patients without private health insurance can also take advantage of this great offer for only $195, with consultation, X-Rays and Fluoride Treatment also included.

Would you like to confirm your appointment NOW and take advantage of our new patient offer?

We're members of the Australian Dental Association

Barangaroo, Pyrmont and Martin Place Dental Health are all proud members of the Australian Dental Association, the preeminent national body for dental professionals in the country. Synonymous with expertise and a superior level of professionalism, we are delighted to be affiliated with such an acclaimed association.

Are you seeking experienced dental professionals who offer supreme quality dental care in the heart of Sydney CBD?

Martin Place Opening Hours
Monday
7:30am - 6pm
Tuesday
7:30am - 6pm
Wednesday
7:30am - 6pm
Thursday
7:30am - 6pm
Friday
9am - 3pm
Saturday
Closed
Sunday
Closed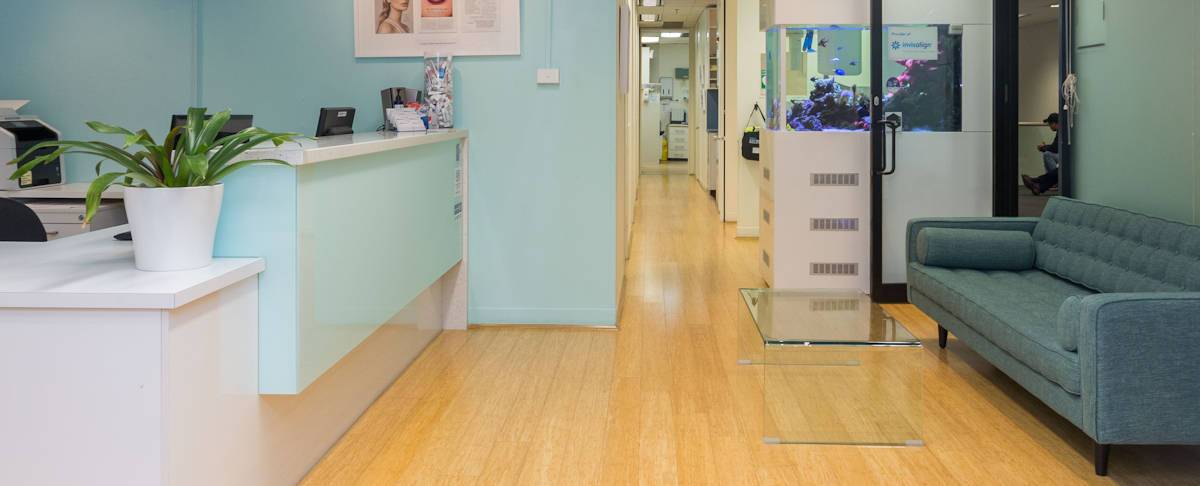 Getting Here
We are conveniently located on the 10th floor of the MLC Centre in Martin Place – Just a short distance from the Martin Place railway station and the heart of the Sydney CBD.
---
For more information or to book an appointment, please contact us.
Visit another location
Not looking for a dental practice in Martin Place? Try one of our other dental practices: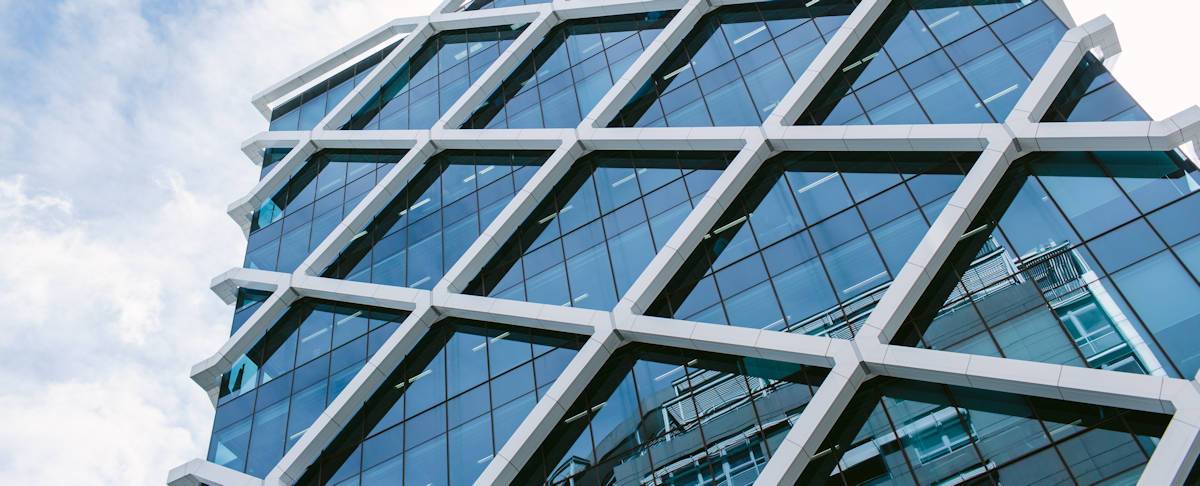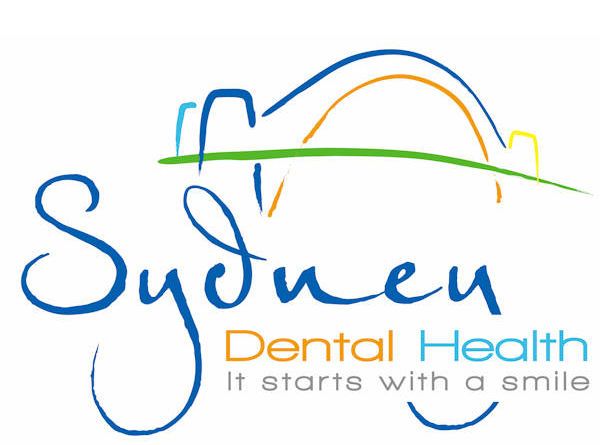 Sydney Dental Health
Macquarie Bank Building, Ground Floor
1 Shelley St
Sydney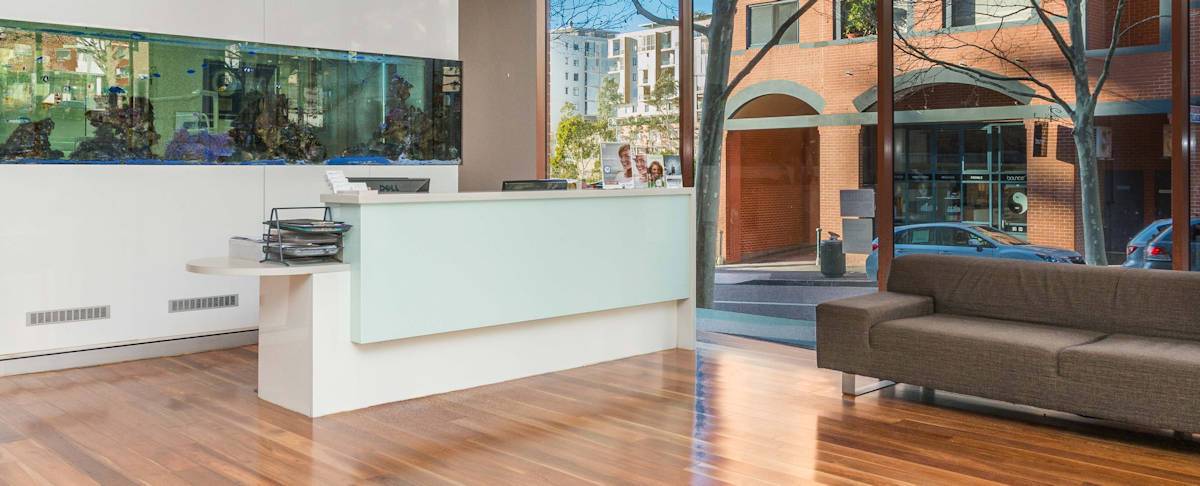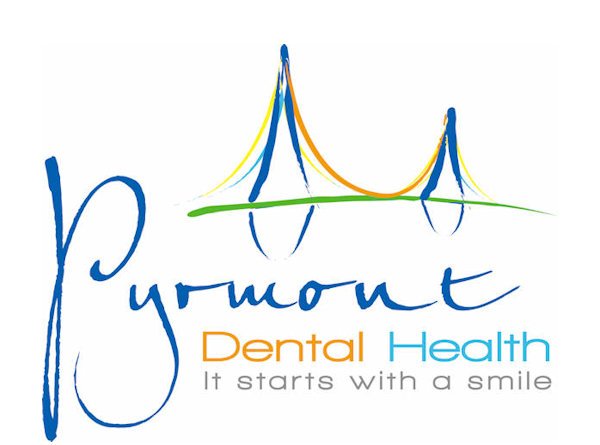 Pyrmont Dental Health
Nokia Building, Ground Floor
3 / 19 Harris Street
Pyrmont
New Patient Special
Pyrmont, Sydney & Martin Place Dental Health are offering all new patients on their first visit a gap-free (i.e. health fund rebate only) check-up and clean.
Find out more